The festivities continue on TikTok, the ultimate shopping destination for this year's holiday season!
Keep tuning into the For You feed to shop for all of your favourite items from TikTok Shopping, with an added slice of entertainment, and take advantage of exclusive in-app discounts of up to 50% off in our Holiday Season Sale in the run-up to 2022.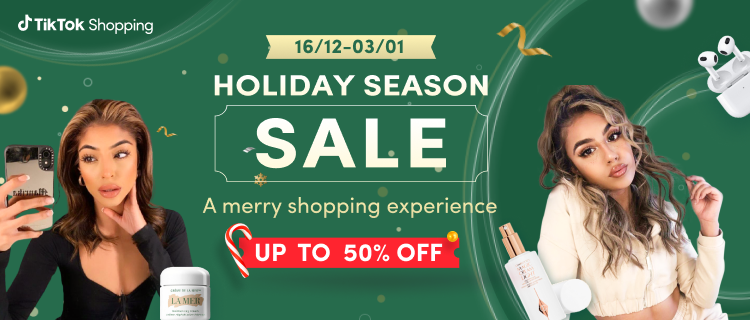 TikTok makes it easy to discover new products and find inspiration based on your interests. From hashtags such as #TikTokMadeMeBuyIt to #AsSeenOnTikTok, the platform has fast become a hotbed for people discovering the latest trends across beauty and tech. There's something for everyone, whether you love following the latest #beautyhacks and #makeuptransformations or reading up on the new product reviews from our savvy #tech community, TikTok now makes it easy to tick off your shopping list as you scroll through the feed.
Offers on display throughout December
It wouldn't be a full TikTok treatment experience without the passionate TikTok creator community.
TikTok has teamed with a number of top creators who will be streaming LIVE across the holidays from 16 December until 3 January, including the Mcloughlin Girls (@mcloughlingirls), Richard Sales (@richardsalesofficial), @itsnisrin, Manrika Khaira (@manrikakhaira), @heytechman, Eden Harvz (@edenharvzofficial) and Luke Ambler (@Luke_solvecollectibles). Dominic Skinner, the Senior Global Artist for M·A·C and one of the iconic presenters of BBC's Glow Up, will also taking part in a very special LIVE shopping event.
Think of them as Santa's Elves, helping you discover the best gifts for family, friends - or maybe even yourself!
By tuning into one of the festive live streams this holiday season through the below brand accounts, TikTok bargain-hunters will have the chance to get not just product recommendations as well as great discounts. By following the events, shoppers can secure discounts of up to 50% across beauty brands, including luxury skincare including LA MER from JD Beauty, and viral haircare from OLAPLEX courtesy of Justmylook and Unineed.
There will be other special discounts across the holiday season from retailers including:
Charlotte Tilbury (@ctilburymakeup)
Justmylook (@justmylook)
Maplin (@maplin)
LIVEWIRE (@efones.com)
PatPat (@patpatuk)
TikTok Shopping's Holiday Season Sale is helping our community to discover amazing products at accessible prices, and some of the incredible discounts available include: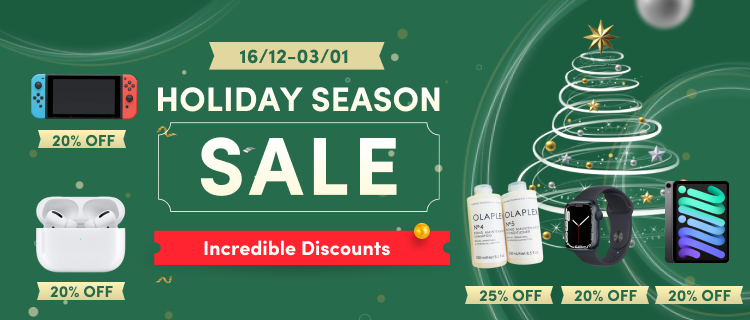 Nintendo Switch - 25% off; Apple Airpods Pro - 20% off ; OLAPLEX NO.4 & NO.5 Shampoo and Conditioner - 25% off; Apple Watch S7 - 20% off ; iPad Pro 12.9' 2021 Model 128GB - 20% off
Don't forget to show us the best deals and products that you got during the holiday sale using the hashtag #TikTokMadeMeBuyIt.
A new shopping destination
Our Holiday Season Sale is not the first time TikTok Shopping has hosted discounted products for our community in the UK, as TikTok becomes a new shopping destination.
In our recent Black Friday event we saw more than 29.6 million views of TikToks and livestreams for shopping-related posts across five days from Thursday 25 through until Tuesday 30 November.
Digital, beauty & personal care, and watches & accessories, were the top three most popular categories with our community.
Some of the most popular brands during the Black Friday event included LIVEWIRE(digital), Justmylook (beauty & personal care) and PatPat (maternity & baby), with all supplying their top-selling products to top TikTok creators for LIVE shopping events, and some of them even putting on their own LIVE shopping events to sell directly to our community too.
Some of our community's favourite creators who participated in the Black Friday event included @heytechman, @thetechhead, @tech_on_trend, @itsnisrin and @whoosh.world.
TikTok's participatory nature is creating an entirely new way for brands to connect with their customers, making product discovery and shopping a native, engaging and entertaining experience for shoppers.
How to shop on TikTok
Our community can access these special holiday season LIVEs either through their For You feed as they scroll on TikTok, or by watching LIVE streams from a number of celebrity creators. You can also search "Holiday Season Sale" in the search bar on the Discover page to see all the details of upcoming LIVES.
The Holiday Season Sale takes place from 16 December up until 3 January 2022, with products being sold by retailers and brands directly on TikTok. When you see a Holiday Season LIVE, you can click on the Product Link in the bottom left corner of the LIVE to see more about that product and options to buy. You can also click on the host page's Profile to access the Shop tab directly in their account and browse all products for sale.
You must be over 18 and have a valid credit or debit card to purchase products on TikTok. Click on the products you wish to buy to add them to your basket. Enter your shipping details, followed by payment information using either a credit/debit card or Apple Pay. With free shipping on products purchased during key LIVEs, you'll get your purchases directly from the seller.